Trends in Tiered Storage Management
Trends in Tiered Storage Management
Wed. evening 13 July, Lawrence Sachartoff, Oracle Corp., presents current trends in storage technologies and their role in Tiered Storage Management solutions.
This is a joint meeting with the IEEE Buenaventura Communications Society chapter.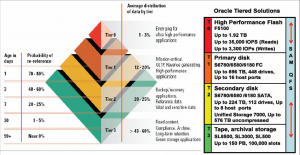 About the Speaker
Lawrence Sachartoff is a high-tech professional with over thirty years of experience. Starting as an avionics tech in the U.S. Air Force (back in the dark days of analogue electronics), Lawrence has built a career in IT technology working with manufacturers and end users such as Intel, Dell, Hughes Space and Communications, Arco and Countrywide. Lawrence is highly experienced with technologies used in the datacenter; servers, storage, backup, preservation and archiving are specialties Lawrence covers in his current role as a Storage Architect with Oracle Corporation.
Where:
Richter Hall, Ahmanson Science Center, CLU, 60 W. Olsen Rd, Thousand Oaks
When:
6:30pm refreshments, networking; 7pm presentation and discussion
RSVP:
---