FIRST Robotics, High Velocity Engineering Training for High School
FIRST Robotics, High Velocity Engineering Training for High School
The Newbury Park High School Pantherbotics team recently competed in the Los Angeles Regional FIRST Robotics Competition. This is a unique competitive engineering challenge wherein students are given 6 weeks to design, build, program, test and debug a robot to play a prescribed game against other robots.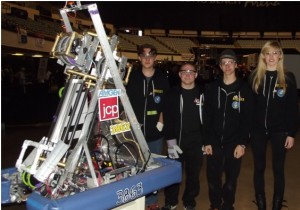 This year the game involved collecting and shooting basketballs into regulation size hoops as well as balancing with other robots on unstable bridges. Students from the team will discuss their experience including the project management process as well as technical details of the robot they developed.
Critical design issues were:
the mechanical design and its relation to the physics of basketball;
the electrical system including power management and a distributed control system;
control and driver interface;
a vision system providing real time video as well as image processing;
and data extraction for targeting.
When:
6:30pm networking, refreshments; 7pm presentation and demonstration
Meeting Location and Parking:
Register:

---