Information for Presenters
Information for Presenters
Welcome and thank you for sharing your information with the IEEE Buenaventura Section's Computer Society chapter.
Logistics
Computer Society meetings are held on the California Lutheran University campus, the second Wednesdays of the month.  Meetings start at 6:30 PM, when the audience begins arriving and networking/chatting; pizza and drinks are available.  Dress is casual.
The regular portion of the meeting starts at 7:00 PM with any announcements, etc. followed by introductions of the speaker(s).  The presentation and discussion typically last 60 to 90 minutes, depending on questions.  We usually break by 8:30 PM, but going longer isn't a problem as we have the auditorium for the evening.
Guests and speakers may park for free in visitor lot near the Visitor Center. Please find complete details about the meeting location on our Meeting Information page.
Venue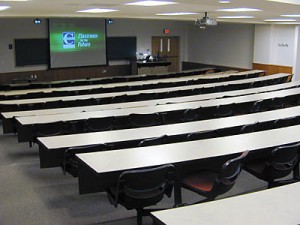 The venue is a lecture hall.  It has a computer projection system equipped with Microsoft Windows and PowerPoint.  The projection system also has good room audio for showing movies, and a VGA input for systems brought into the venue; please bring adapters for Macintosh computers.
The site is fully networked. Data and presentations may be accessed or downloaded from the web. If arrangements are made in advance, guest access to the campus's wireless network is available.
Richter Auditorium has plenty of electric power and a large laboratory bench top for demonstration equipment if needed.
Audience
An average audience is 20 to 30 IEEE Computer Society members, students, and technically-minded; special presenters have 60 to 70 attend (room capacity is 75).  Business models and plans are of interest but primarily in support of the technical solution to the business problem.
Publicity
At least two weeks in advance and one week prior to the end of the preceding month, please send a one paragraph summary of the presentation plus one or two paragraphs about the speaker(s) and company.  Cut-and-paste from an existing paper or website is great.  Sooner is better as we can put up the meeting announcement right away and start advertising it to the section and neighboring sections.
For an example , see the meeting announcement and the venue and audience for the Stuxnet Worm presentation by Liam O'Murchu of Symantec on 11 February 2012.
Any of the officers (see links at page right) can answer additional questions.

---